SRI LANKA > AZIE


Vakantie Sri Lanka - Reisinformatie over Sri Lanka

Democratische Socialistische Republiek Sri Lanka, voormalig Ceylon.

Sri Lanka is een eiland ter grootte van België, Nederland en Luxemburg samen en ligt in de Indische Oceaan, ten zuiden van India. De kust is vlak en zeer groen, met veel tropische en vaak dichte begroeiïng. Landinwaarts is het landschap heuvelachtiger/bergachtig. Het heeft een warm, tropisch klimaat met een gemiddelde temperatuur van 27 graden in de kustgebieden. Het hoogseizoen loopt van november t/m april. Vaccinaties zijn niet verplicht, maar ...

Dit schitterende eiland is altijd van zeer groot belang geweest voor de handel in Zuid en Zuid-Oost Azië en herbergt dan ook vele koloniale Britse, Nederlandse en Portugese overblijfselen

Provincies in Sri Lanka : Central, North Central, North Eastern, North Western, Sabaragamuwa, Southern, Uva, Western.

Hoofdstad van Sri Lanka: Colombo


autoverhuur, hotels, reisbureaus, recente reisadviezen, reisgidsen, reizen naar sri lanka

links


Autoverhuur





Hotels in Sri Lanka / Guest houses



[ ebookers ]



- Hotels in Sri Lanka





Nationale Parken



Horton Plains - heuvelachtig met prachtige vergezichten
Hortons Plains is a national park and the highest plateau in the island consisting of grassland scattered with areas of forest, with some unusual high altitude vegetation. The plains are a beautiful mystical place with some trails for walking. The famous "World's End" and "Bakers Falls" are major attractions. The Kirigalpotta, second highest peak and the Thotapola, third highest peak of the country are also situated in the Horton plains.


Sinharaja Forest Reserve
Sinharaja tropical rain forest is a vast repository of natural wealth. Singharaja Forest Reserve is one of the biggest rain forests in this part of the region. This tropical rain forest is a living legacy. Bio diversity of the forest is very high and a large proportion of the flora in this forest is endemic to the country and some are found only in the Singharaja Forest. Birds such as Ceylon Lorikeet, Layard's parakeet, Jungle and Spur Fowl, Ceylon Wood Pigeon, Grey Horn bill, Spotted wing Thrush, Rufous and Brown- capped Babbler, Ashy-headed Laughing Thrush, Ceylon Blue Magpie, White Headed Starling, Ceylon Hill Mynha, Legge's Flowerpecker. Easily approachable roads in to the jungle provide easy access to the forest. This important forest is a Man and Biosphere Forest reserve and it is considered as a World Heritage Site.


Yala National Park

Reisbureaus / Reisorganisaties



NRV Reizen naar Sri Lanka
Groepsrondreizen, Privé-rondreizen, Stad & Stand, Zelf je reis naar Sri Lanka samenstellen
B.v. 11 dagen Colombo & Kalutara, 9 dagen Colombo & Zuidkust, 14-daagse reis Colombo, Kandy & Zuidkust, 11 dagen Kandy & Negombo, 9 dagen Kandy & Zuidkust.



Shoestring - Groepsreizen - Sri Lanka en de Malediven
Dit is de ideale reis voor reizigers die in twee weken kennis willen maken met het mooie eiland Sri Lanka èn heerlijk willen ontspannen op de juwelen van de Indische Oceaan: de tropische Malediven archipel. Wat dacht je van een jeepsafari of treinreis door de groene theeplantages, het wassen van een olifant of een bezoek aan de prachtige monumenten van dit boeddhistische paradijs. En wil je snorkelen of duiken in een van de mooiste onderwaterwerelden van onze planeet? Ook dat is mogelijk tijdens dit exotische avontuur!



Djoser Junior - groepsrondreis naar Sri Lanka
V.B. 16-daagse reis : Tijdens deze gevarieerde vakantie ontdek je de steden Colombo en Kandy, de natuur van Nuwara Eliya en de bijzondere slaapplaats in het Thanamalwilla jungle camp. De prachtige stranden van Beruwela zorgen voor vertier voor zowel jong als oud.



FOX Vakanties Sri Lanka - Groepsrondreizen Sri Lanka



Kuoni - Sri Lanka
Strandvakanties, Luxe strandvakanties, All Inclusive, Groepsreizen, Privéreizen



KRAS Reizen Sri Lanka - B.V Busrondreis Sri Lanka
Busreis door Sri Lanka met hoogtepunten als Sigiriya, Anuradhapura, Mihintale, de ruïnestad Pollonaruwa, Kandy, Galle en de badplaats Hikkaduwa.

Reisgidsen Sri Lanka / Reisliteratuur / Tijdschriften



Bruna -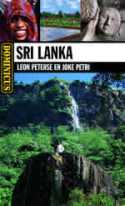 Reisgids - Te gast in Sri Lanka - Informatie Verre Reizen


Reisgids Sri Lanka - Dominicus
Gottmer; Aantal blz.: 236; 2009; 9789025745783.


Reisgids Sri Lanka - Lonely Planet


Reisgids Sri Lanka - Bradt Guides


Reisgids Sri Lanka - Insight guide (ENGELS)


Reisgids Sri Lanka - Rough Guide


Marco Polo reisgids Sri Lanka



Landkaart - wegenkaart Sri Lanka - Nelles Maps


Landkaart - wegenkaart Sri Lanka - Reise Know How



Sri Lanka - W.M. Geetha Kumari
Wie met het vliegtuig Colombo nadert en Sri Lanka als een parel in de Indische Oceaan ziet liggen, kan alle mooie verwachtingen in vervulling zien gaan die horen bij een vakantie op dit exotische, tropische eiland.
De auteur informeert de lezer deskundig en helder over dit eiland waarbij hij natuurlijk ook ingaat op de politieke achtergronden.
Na de praktische informatie van A tot Z gaat de auteur in op achtereenvolgens natuur en landschap, bevolking en godsdienst, kunst en cultuur en staat en economie.

Vakantiewoningen / Villa's



The Sun House in Galle
Tropical Islands and Villas for private rent. Rest, Solitude, and Pampering guaranteed!

Vervoer / Hoe kom ik in Sri Lanka

Vanaf onze contreien vlieg je er in ongeveer 12 uur naar toe en het is er 4,5 uur (zomertijd 3,5 uur) later dan bij ons.



Luchthaven Colombo Ratmalana ??


Luchthaven Bandaranaike - Bandaranaike International Airport
Flight Schedules, Map of Sri Lanka, Health Regulations, Hotels, Tour inside the Airport and more ...



- Vliegtickets Sri Lanka



NRV Reizen naar Sri Lanka
Retour Colombo met Emirates, Retour Colombo met Sri Lankan Airlines, In Colombo | uit Malé met Sri Lankan Airlines, Retour Colombo met Royal Jordanian, Retour Malé met Emirates, Retour Malé met Sri Lankan Airlnes



Losse vliegtickets / goedkoop vliegen - diverse aanbieders



ArkeFly -



Landkaart van Sri Lanka [ Uni Texas - Perry-Castañeda Library - Map Collection ]


Links / Verwijzingen



Ceylon Tourist Board



Sri Lanka Tourist Board
News, Sports, Beaches, Statistics, Fauna & Flora, Accommodation, Sri Lanka Profile, Places of Interest, Calendar of Events, General Information, Museums & Art Galleries, National Parks/Sanctuaries, Conference/Incentive Facilities, Tour/Travel Agents, Transportation, Entertainment, Shopping, Overseas



Overheid van Sri Lanka - GOSL - officiële website



Colombo - nationale hoofdstad
Colombo is a relatively easy city to find your way around. To the north is the Fort district, the country's business centre, which has department stores, book shops, airline offices, etc. this is the best city to get most of your shopping done.
De 'pettah', de vroegere nederzetting van de Hollanders, is een typisch oosterse wijk met talrijke bazaars. Bij de vele straathandeltjes zie je nog ouderwetse handarbeid, zoals het goudsmeden. Het vroegere postkantoor in Prince Street, een oudHollands bouwwerk, is ingericht als museum van de Hollandse geschiedenis op Sri Lanka.



Centrale Provincie van Sri Lanka


Noord-Centraal


Noord-Oost


Noord-West Provincie


Sabaragamuwa


Zuid-Provincie


Uva


West-Provincie



Anuradhapura - allereerste hoofdstad uit de vijfde eeuw voor Christus - heilige stad
Oude koningsstad met eeuwenoude tempels en kloosters.
Sri Lanka's first capital, founded in the 5th century B.C. is situated 206 km. from Colombo. The Sacred Bo Tree , ancient ruins such as the Ruwanweliseya, Abhayagiri Dagaba, Jetavanaramaya, Brazen Palace, Thuparama Dagaba, Samadhi Buddha Statue, Kuttam Pokuna and the Mirisavati Dagaba are sites worth seeing.


Bandarawela - omringd door theeplantages ???


Bentota


Beruwela


Daladamaligawa ?


Dambulla - rotstempels
Dambulla is home to one of the most magnificent cave temples in Sri Lanka. The five caves situated under a vast overhanging rock which dates back to the 1st century BC is uniquely carved with a drip line to keep the interiors dry. Inside the caves, the ceilings are painted with intricate patterns of religious images following the contours of the rock.


Devon Falls - watervallen, genoemd naar beroemde koffieplanter
Named after a famed pioneer coffee planter before the tea revolution came about, the Devon Falls drops 97meters. It is 6Km west of Thalawakelle and there is a special parking and viewing spot at the 20th mile post. An ideal place for a stop over.


Elkaduwa


Galle - hoofdstad van de Zuidelijke Provincie en district Galle
Met uniek Hollands fort uit de Nederlandse VOC-tijd [ 1663 ], 36 hectare groot en uitgeroepen tot werelderfgoed.


Giritale


Hambantota


Hikkaduwa - kustplaats - duikvakantie
Hikkaduwa located 98 km down the scenic southern coast of Sri Lanka, is a haven for marine life enthusiasts , with it's coral gardens and the abundance of marine life. Tourists can hire glass bottomed boats or diving gear and explore the fabled delights of the underwater world.


Jaffna


Kandy - hoofdstad van de Centrale Provincie en het gelijknamige district Kandy
Koningsstad met beroemde 'Tempel van de Tand' - heilige stad. In 1988 werd Kandy door UNESCO op de Werelderfgoedlijst geplaatst.


Kalmunai - stad in de Oostelijke Provincie van Sri Lanka, in het district Ampara
De stad ligt aan de Indische Oceaan.


Kataramaga


Matale - specerijentuin


Negombo - vissersplaatsje - zeebanket - voor lekkerbekken
Oude vissersplaats met restanten van een Hollandse kerk en een fort uit de VOC-tijd>
Nog iedere morgen gaan de vissers in hun traditionele catamarans de zee op, waarna de vangst in de vroege middag direct op het strand verkocht wordt.
Located 37 km north of Colombo and within close distance to the International Airport is the distinctive fishing town of Negombo. The city is a gourmet's paradise with sea food in plenty. Traditional methods of fishing using the outrigger canoe and the catamaran are still popular, bringing in seer, skipjack, herring, mullet, pomfret, amber, etc.


ihintale - bedevaartsplaats


Nuwara Eliya


Pinnawela - Olifantenweeshuis


Polonnaruwa - ruinestad - voormalige middeleeuwse hoofdstad
Met liggende en staand Boedha.
The island's medieval capital (11th to 13th century A.D.) is situated 216 km. from Colombo. One of the largest man-made reservoirs, the huge Parakrama Samudra, the ruins of the King's Council Chamber, the Royal Citadel, Royal Pavilion, the Vatadage Relic House lavished with moonstones, guardstones and sculptured railings are just a few architectural marvels of the ancient world.


Sigiriya - fortificatie - beroemde leeuwenrots.
For 18 years king Kashyapa ruled his kingdom from his fortress on top of this massive rock formation in the 5th century A.D. In a sheltered pocket, which could be approached by a spiral stairway, are the world famous frescoes of heavenly maidens called "Apsaras".


Thalpitiya


Trincomalee - voor een strandvakantie en maagdelijke stranden
Trincomalee is een ideale bestemming voor strandliefhebbers met zijn natuurlijke haven en stranden met kristalhelder water die tot mijlenver strekken. Trincomalee ligt ca. 257 km van Colombo. Nilaveli beach wordt gezien als een van de meest pittoreske en mooiste stranden in de wereld.
De haven van Trincomalee was ooit een belangrijk strategisch punt voor de Nederlandse koloniale handel vanaf Ceylon [ vroegere benaming van Sri Lanka ].


Yala



Bank of Ceylon
History, Banking Services, Subsidiaries, Local Branch Network, International Branch Network, Exchange & Interest Rates, Account Opening, What's New, Financial Statements and Contact & Inquiries.


Dutch Channel
Een 100 kilometer lange waterweg bij Colombo, die nog door de Hollanders aangelegd is. Dit kanaal verbond kaneeltuinen, kokospalmplantages en kleine dorpjes in het achterland met de havens aan de kust.


Hakgala Botanical Gardens - botanische tuin
Hakgala Botanical Gardens is situated at the base of the Hakgala peak, south of Nuwara Eliya. Established in 1860, the garden has a wide range of roses, ferns, orchids .The rock of Hakgala rises 450m above the gardens providing an amazing back drop. The Hakgala natural reserve can be found at the end of the gardens and is home to a variety of wild life including bears, monkeys and bird life.


Lanka Chronicle - Sri Lanka's first electronic chronicle


Laksapana Falls - watervallen van Laksapana
Laksapana Falls rise from the Laksapana Estate and plunges in to the Maskeliya Oya via Maoussakelle. Travelling through Glencairn and Dickoya would provide wonderful spots to view the water cascading down the mountain.


Leeuwenrots van Sigiriya


Liggende Boeddha in de tempel van Pambula


Mount Lavinia - berg
Located just 12 km. south of Colombo, Mount Lavinia is an immediate city suburb with a reputation for sumptuous sea food. The beach is recognized as the most attractive beach close to Colombo. It lies alongside a windswept headland jutting into the waters of the Indian Ocean. The sand is soft and the waves calm and clear.


Peradeniya Botanical Gardens - botanische tuin
Established in 1816, these gardens are located about 6.5km before Kandy on the side of the Colombo-Kandy highway. The gardens were initially known for it's Coffee and Cinnamon, now it is recognized for beautiful Sri Lankan and overseas species. No vehicle is allowed entry to this 147-acre garden. It is bounded on three sides by a loop of the longest river in Sri Lanka, the Mahaweli River.


Rots van Mihinthalaya


Universiteit Sri Lanka - University College, Colombo
Zie Universiteiten in Sri Lanka.

Cuisine - Sri Lankaanse keuken

Sri Lankans like their food to be spicy. Rice is eaten at least once a day, usually with very hot curry. Despite today's obsession which chilli it it was the Portugese who introduced Red Chilli to Sri Lanka. Until then most preparation had been sweet or used only pepper. Modern day Sri Lankan food has Indian, Portugese, Dutch and even a touch of British flavour mixed in. Don't worry you don't need to add salt to the beer.

Almost every dish is prepared in coconut milk. Dairy milk can be substituted if coconuts are hard to come by. Your nearest Sri Lankan, Indian or Pakistani shop may have all the ingredients for Sri Lankan cooking.

Ambul Thiyal [ traditionele vismaaltijd, liefst tonijn ? ], Seeni Sambol [ uien, zoet en heet ], Coconut Sambol [ erg pedis ]



Keuken Sri Lanka - Cuisine_of_Sri_Lanka



Food of Sri Lanka: Authentic Recipes from the Island of Gems door Douglas Bullis en Wendy Hutton
ISBN: 9625937609

Geschiedenis Sri Lanka

Onafhankelijk van Groot-Brittannië op 4 februari 1948

Sri Lanka is al ruim 25 jaar verwikkeld in een bloedige strijd. Tamil-rebellen strijden voor een onafhankelijke staat in het noorden en oosten van het land. Een van de redenen daarvoor is het feit dat zij zich gediscrimineerd voelen door de Boeddhistische Singalese gemeenschap die de meerderheid vormen op het eiland.



Geschiedenis van Sri Lanka - History_of_Sri_Lanka



Nationaal Museum
Een ander interessant museum, waar veel voorwerpen uit de historische en culturele geschiedenis van het voormalige Ceylon tentoongesteld zijn.


Lanka Library - zie history & archeology


Boeddhisme Sri Lanka - Geschiedenis van het Theravada boeddhisme in Sri Lanka


VOC-Kenniscentrum
Na Batavia werd Ceylon, het kaneeleiland, het belangrijkst. De VOC veroverde het kustgebied van Ceylon in talrijke campagnes op de Portugezen tussen 1638 en 1658.
Site-indeling: kamers, schepen, overzee, gewesten, produkten, kaarten enz.

Muziek, Kunst & Cultuur, Evenementen & Entertainment



Muziek uit Sri Lanka - Music of Sri Lanka



Cultuur van Sri Lanka - Culture of Sri Lanka



Srilankaans / Singalees
Singalees is de nationale taal van de eilandstaat Sri Lanka, het vroegere Ceylon. . De taal is afgeleid van het Sanskriet.



Dansers van Kandy in de Tempel van de Tand


Kandy Esala Perahera [ parade ]
Hierbij wordt de tand van Boeddha door de stad vervoerd op een olifant.



Festivals in Sri Lanka - Sri_Lankan_festivals

Recente reisadviezen - zie de pagina reisadvies