MACEDONIň > EU


Vakantie in MacedoniŽ - Reisinformatie MacedoniŽ - Parel van de Balkan.

Provincies in MacedoniŽ : Berovo, Bitola, Brod, Debar, Delcevo, Gevgelija, Gostivar, Kavadarci, Kicevo, Kocani, Kratovo, Kriva Palanka, Krusevo, Kumanovo, Murgasevo, Negotino, Ohrid, Prilep, Probistip, Radovis, Resen, Skopje-Centar, Skopje-Cair, Skopje-Karpos, Skopje-Kisela Voda, Skopje-Gazi Baba, Stip, Struga, Strumica, Sveti Nikole, Tetovo, Titov Veles, Valandovo, en Vinica.

Macedonische steden : Bitola, Gostivar, Kočani, Kumanovo, Ohrid, Prilep, Radoviö, Skopje, ätip, Strumica, Tetovo, Veles, en meer ...

De Republiek MacedoniŽ is een door land omsloten regio ip de Balkan in zuidoost Europa en wordt omringd door AlbaniŽ, Bulgarije, Griekenland en ServiŽ.

Hoofdstad van MacedoniŽ : Skopje


autoverhuur, hotels, reisbureaus, reisgidsen, reizen naar macedoniŽ

links


Autohuur



ebookers.nl - Klik op 'Autohuur'



e-sixt -

Hotels in MacedoniŽ



Booking - Hotels in MacedoniŽ - Skopje, Ohrid en Tetovo



Booking - Hotels in Skopje - Hotelgids Skopje



Booking - Hotels in Ohrid - Hotelgids Ohrid



- Hotels in MacedoniŽ





Nationale Parken



Galicica National Park
The National Park Galicica is located in the south-western part of Republic of Macedonia, on the junction of three borders: of Macedonia, Albania and Greece.
Tourism : The summer tourism zone, on the side of Ohrid, starts from the site Bej Bunar and covers the area between the coast of Lake Ohrid and the area along the newly projected road Ohrid - Sveti Naum. On the side of Lake Prespa, the zone starts from the settlement Sir Han, between the coast and the edge of the woods, to the border with Republic of Albania. Only the rocks and cliffs that under the regime of strict protection have been taken out of this zone. The winter tourism zone is on the ridge of Galicica.


Mavrovo National Park
A place of many natural beauties, magnificent vistas, a crystal clear lake and high mountain hills [ from where you can see panoramas of Bistra and its nearby village suburbs ]. Mavrovo attracts tourists during all seasons. The peaks on the northern part of the Bistra mountain: Rusino Brdo, Sultanica and Sandaktas, have good conditions for winter sport activities. See Ministry of Environment and Physical Planning.


Pelister National Park
The National Park Pelister is situated in the south-east part of the Republic of Macedonia, covering an area of 12 500 ha. In 1948 it was proclaimed as first protected natural good in the Republic of Macedonia. It is characterised with a number of peaks and hills higher than 2000 meters, divided among themselves by deep dales. The highest mountain peak is Pelister (2601 m). See Ministry of Environment and Physical Planning.

Reisbureaus / Aanbiedingen



ASCI - Kampeerreis MacedoniŽ - AlbaniŽ



SNP Wandelreizen
SNP Natuur & cultuurreizen



Qxxl
MacedoniŽ, Lake Ohrid, Skopje


Inter Balkan Vakanties
Ontdek Ohrid, de culturele schatten en de natuurschoon. Proef de ontspannen Balkansfeer. Strand, cultuur, (berg)wandelen, fietsen.


NRC Reizen
Af en toe organiseert het avondblad de NRC in samenwerking met gespecialiseerde reisbureaus reizen naar MacedoniŽ.


Special Events


Voyage & Culture



MacedoniŽ - binnenkomend



Worldtourismdirectory.com

Reisgidsen / Reisliteratuur



Bruna -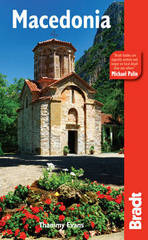 Gizi Map wegenkaart MacedoniŽ / Macedonia


Landenreeks reisgids MacedoniŽ


Reisgids MacedoniŽ - Macedonia
Bradt Travel guide; Aantal blz.: 344; 2009; ISBN 9781841622972


Reisgids: Makedonien - MacedoniŽ entdecken
Trescher Verlag; Aantal blz.: 307; 2009; ISBN 9783897941380


Wegenkaart - landkaart ServiŽ-Montenegro & MacedoniŽ
Freytag & Berndt; ISBN 9783707904314; 1:500.000


Oil Wrestlers - N. Biegman
ISBN 9789068327410; KIT Publishers, Amsterdam; Paperback; 136 p. ; 2008 ; English.


Macedonia: Warlords and Rebels in the Balkans - door John Phillips
Hardcover 224 pages (July 2004); Publisher: I.B. Tauris

Vervoer / Hoe kom ik in MacedoniŽ



Luchthaven van Skopje [ SKP ] - Petrovec - 16 km van Skopje


Luchthaven van Ohrid [ OHD ]



Luchthavens in MacedoniŽ



Luchtjaven Pristina - 80 km van Skopje


Luchthaven Thessaloniki



Vliegtickets / goedkoep vluchten
Vliegtickets naar MacedoniŽ, diverse aanbieders

Kaarten van Macedoniť [ Uni Texas - Perry-CastaŮeda Library - Map Collection Europe ]


Links / Verwijzingen



Macedonische taal - What to say in Macedonian / Greetings
Hoe zeg ik het in het Macedonisch.



Toeristenbureau MacedoniŽ - zie Exploring Macedonia



Macedonische overheid - Government Republic Macedonia



Skopje - City of Skopje - Hoofdstad van MacedoniŽ



Skopje Online
Accommodation, Culture, Eating and Drinking, Entertainment, Shopping, Sport



Meer van Ohrid - blauwe Macedonische parel
One of the oldest and best-preserved lakes in the world. Near the crystal-clear lake water and the unpolluted environment, a breath of untouched nature is felt. The whispers of the waves of this 4 million-year-old lake tell about its rich and unique flora and fauna which make it a rare world natural museum. It is famous for its fish, those that grace the table, like trout cooked in a local way, or another tradition of the town - bleak, the small fish from whose scales the world-known Ohrid pearls are made.


Meren in MacedoniŽ
De belangrijkste toeristische centra in MacedoniŽ liggen rondeom de meren.



Berovo


Bitola - Government City of Bitola - Zuidwestelijke deel MacedoniŽ
Bitola is het belangrijkste economische en industriŽle centrum van zuidwest MacedoniŽ. Veel van de grootste bedrijven in MacedoniŽ hebben hier hun hoofdvestiging. Het ligt in het zuidelijke deel van de Pelagoniavallei, omgeven door de bergen van Baba en Nidže, 14 km noordelijk van de Medžitlija-Niki grensovergang naar Griekenland. In feite is het een belangrijk verbindingspunt tussen het zuiden van de Adriatische Zee met de EgeÔsche Zee en centraal Europa. Tijdens de Ottomaanse periode stond het ook wel bekend als de stad der Consuls, omdat vele Europese landen hier een consul hadden zitten.
In Bitola vindt je indrukwekkende vloermozaÔeken.


Debar


Delčcevo


Demir Kapija


Demir Hisar


Dojran


Gostivar - City of Gostivari - located on the foothills of äar Planina mountain
Gostivar is one of the largest settlements in the Polog valley. Some 26 km from Gostivar you will find one of the best Ski Resorts in Macedonia : Zare Lazarevski in the Mavrovo National Park.
Near to Gostivar is the village of Vrutok, where the Vardar river begins


Gevgelija


Kavadarci


Kičcevo


Kočcani - see Kocani Municipality - in the Eastern part of the Republic of Macedonia
Kocani spreads across the Northern side of the Kočcani valley, along the banks of the Kočcani river. See also Discover Kocani [ Tourist Board Kocani ]


Kratovo


Kruöevo


Kriva Palanka


Kumanovo


Makedonski Brod


Negotino


Ohrid - Stadsbestuur Ohrid


Ohrid - meest zuidelijke deel MacedoniŽ - waar zelfs de engelen vakantie houden
Ohrid ligt schilderachtig op een heuvel en diende als belangrijke inspiratiebron voor de Nederlandse schrijven A. den Doolaard. Je vindt er talloze kerken met originele fresco's, kloosters en andere historische monumenten.


Prilep - Municipality of Prilep
Prilep is located in the centre of the south part of Republic of Macedonia. It is situated in Field of Prilep that is in the north part of the largest ravine in Macedonia, Pelagonija. The town is at an altitude of 620 – 650 metres.
The vital ancient roads "Via Ignazia" and "Via Militaris" were the most natural connection with the whole Balkans, crossing Prilep. The shortest road that connects Venice and Dubrovnik businessmen with the ones in Thessaloniki was crossing through Prilep, too. Through the centuries many cultures have lived in this area, like Hellenics, Romans, Byzantines, Slavs and many others.
Prilep is known as 'the city under Marko's Towers' because of its proximity to the towers of the legendary hero King Marko.


Probiötip


Radoviö - zie Radovis Municipality - zuidoostelijk deel van MacedoniŽ
Located at the foot of mountain Plačckovica and the northern part of the Strumica valley. 36 other villages are part of the municipality of Radoviö.


Resen


Skopje - City of Sopje


St. Naum - Ohrid
Located in the southern part of the Balkan Peninsula, enriched by the exceptional beauty of the few natural and artificial lakes, high mountains and 38 thermal mineral springs concentrated in 8 health resorts.


ätip - zie Municipality of Stip - grootste plaats in oostelijk MacedoniŽ
Vroegere hoofdstad Paeonian tribe en nu het centrum van de textiel- en mode-industrie.


Struga


Strumica - zie Strumica Municipality - in het zuidoosten van MacedoniŽ
The City of Strumica is located close to the Novo Selo-Petrich border crossing with Bulgaria and the main agricultural center in the Republic of Macedonia. Furthermore many textile factories and a developed trade network.


Sveti Nikole


Tetovo - City of Tetovo - in het noordwesten van MacedoniŽ
De stad is gebouwd op de uitlopers van het Shargebergte en wordt door de rivier Pena in tweeŽn gedeeld. Bezienswaardigheid : beschilderde moskee uit 1459.


Valandovo


Veles - zie Municipality of Veles - in het centrum van Macedoni"aan de rivier Vardar
Veles is a city of poetry, culture, history and tradition. See e.g. the International Poetry Manifestation: Racin Meetings [ From 1964, Veles is the host of the poets that meet in the natal city of Koco Ratcin, the founder of contemporary poetry of Macedonia and they celebrate the essence of the poetic word ].
Vinica



Macedonische steden



Bistra gebergte - wintersport on MacedoniŽ


Cave Churches Lake of Ohrid
Cave churches appeared in 9th century or earlier. The paintings date mainly from 13th and 14th century, and they are closely connected with the Christian learning - isihasm. That was the attribute of the overall life in Macedonia a long time ago. Here, in all the different caves, many hermits lived and practiced mysticism, miracles and prophecy. Especially in the vicinity of Lake Ohrid cave churches sprouted. That was where the isihastits lived and worked.


Klooster van Sveti Naum bij de Albanese grens


Kokino Rock Outcrop - archeologische site uit het Bronzen Tijdperk
The locality has all the characteristics of a holy place, but also of an older observatory for observation of celestial bodies. From this observatory people possibly followed the movement of the star cluster Pleiades already in 1800 B.C. See for more The Megalithic Portal.


Mali Sharr - overweldigende bergen
The area is wild and tame. Met sneeuw bedekt van november tot april. De hoogste piek reikt Titov Vrv [ 2,747 m ]. Andere pieken zijn Ljuboten [ 2.498 m ] en Bistrica [ 2.640 m ].


Berg Korab - wintersport


Shar-gebergte / äar Planina - een van de belangrijkste alpine bergketens in MacedoniŽ
Located on the southern border of Serbia [ Kosovo ] and the northwest part of the Republic of Macedonia. There are several high mountain peaks: Titov Vrv [ with 2747 m the highest peak ], Turcin (2702 m), Borislavec (2662 m), Rudoka (2610 m), Ljuboten (2498 m), and Piribeg.


Stobi
Archeolgische opgravingen met waardevolle fresco's en sculpturen.



Nationale Bank van MacedoniŽ


Nieuws uit MacedoniŽ - Macedonian Information Center


Nieuws uit MacedoniŽ - Dnevnik


Radio uit MacedoniŽ - Antenna5


Beurs van Skopje - Skopje Fair
Skopje Fair is situated on a surface of 25,000 square meters out of which 16,000m2 are covered space in six exhibition halls, functionally and architecturally formed and connected in original entity. The open exhibition space is equipped to meet the requirements of modern exhibiting.
Skopje Fair is also an information, business and marketing center disposing of rooms for press and conferences, seminars, symposiums, presentations...


Universiteit van MacedoniŽ - See University [ SEEU - South East European University ]


Wintersport in MacedoniŽ

Cuisine - eten en drinken MacedoniŽ



Food & Drink - Typical Macedonian dishes
Macedonian cuisine is rich in fresh fruits and vegetables given its temperate climate. Many of them are home -grown, harvested in abundance during the warmer months and stored for consumption in the winter. Listed on this website of the City of Veles are some of the most popular Macedonian dishes and their ingredients.

... Throughout Macedonia, people make their own wine а?s well as rakia, a very strong alcoholic beverage that is more than 50 proof. Wine and rakia are made of grapes but with different fermentation processes. One version of rakia contains walnuts, altering its aroma and taste, which resembles that of liquor...



Macedonian Cuisine - Belangrijkste Macedonische maaltijden, sides en deserts - recepten

Geschiedenis

Onafhankelijk sinds 17 september 1991 [ van JoegoslaviŽ ]

Culrurele en historische erfenis [ veel kerken, klossters en moskeeŽn, archeologische vindplaatsen, redelijk bewaarde overblijfsels steden uit de Romeinse en Griekse periode, en de eerste Christelijke iconen ].



Makedonika - nationaal museum MacedoniŽ


Paeonians
In the time of king Philip II of Macedon, Paionia covered most of what is now the Republic of Macedonia, and was located immediately north of ancient Macedon [ roughly corresponding to the modern Greek region of Macedonia [ and south of Dardania [ roughly corresponding to modern-day Kosovo ]. Zie voor meer Wikipedia.


Skopje Online - History and Culture
Monumenten, Museums, Tradities, Tentoonstellingen enz.


MacedoniŽ door de eeuwen heen - Macedonia through the Centuries
Ancient Macedonia, Medieval Macedonia, Macedonia During the Turkish Rule, The Cultural and the National Liberation Movement of the Macedonian People, Macedonia during / between the Two World Wars, Macedonia After the World War II, The Macedonian Ortodox Church and the Macedonian Emigration and more

Muziek, Cultuur & Entertainment



Macedonian Direct - folk music, folk costumes, handicrafts and more
Traditional Macedonian instruments: tambura, gajda, kaval, zurla, tapan, dajre, tarabuka. Listen to RealAudio samples of the engaging sounds of the Macedonian kaval, gajda, tambura, zurla. See the instrument gallery, the folk costumes



Blesok - literatuur en andere kunst [ English, Macedonian ]


CEEOL
C.E.E.O.L. is an online archive which provides access to full text PDF articles from 290 humanities and social science journals and re-digitized documents pertaining to Central, Eastern and South-Eastern European topics.


Macedonische film - Macedonian Cinema


Bibliotheek MacedoniŽ - National and University Library "St. Kliment Ohridski"
The rich library tradition on the soil of the Republic of Macedonia whose roots stretch back to the deeds of the pan-Slavonic educators St. Cyril (826-869) and St. Methodius (820-885) is the same foundation on which the Library began to build up and develop its activity. Its patron saint, Clement of Ohrid (830-916), established the first monastic library in Ohrid in the Monastery of St. Panteleimon, and he is thus the founder of librarianship in these parts.
The initial fund of books in the National and University Library "St. Kliment Ohridski" at its foundation in 1944 amounted to some 150,000 library items. The majority of these were inherited from the Central Library of the pre-war Faculty of Philosophy in Skopje, founded in 1920 in Skopje.



Cultuur in MacedoniŽ - Culture in Macedonia
Music, Theater, Performing Arts, Visual Arts, Film, Publishing, Literature, Popular Culture, Events, Projects, Festivals, Cultural monuments, Ethnology, Links to other sites on Macedonia


Culture Macedonia
This web-site invites you to a virtual tour through the Republic of Macedonia and its cultural monuments



Zomergesival Ohrid - Ohrid Summer Festival
The Ohrid Summer Festival and the Balkan Folklore Festival bring magic to the summer evenings beside the lake of Ohrid


Struga Poetry Evenings
The Struga Poetry Evenings started in 1962 with a series of readings by a number of Macedonian poets in honour of the two brothers, Konstantin and Dimitar Miladinov, great intellectuals, teachers, and writers, born in Struga in the early 19th century. Konstantin Miladinov is considered to be the founder of modern Macedonian poetry and each year the festival officially opens with his memorable poem "Longing for the South" ("T'ga za jug") written during his student days in Moscow.


Carnaval in Strumica - Strumica Carnival
The Strumica Carnival is a centuries-old tradition of the town under the Tsar's Towers and is directly connected to the religious festival Trimeri [ held each year within the "Trimeri" days, that is at the beginning of the Lenten Fast ].