TANZANIA > AFRIKA


Vakantie in Tanzania - Reisinformatie Tanzania

Het vroegere Tanganyika.

Regio's in Tanzania : Arusha, Dar es Salaam, Dodoma, Iringa, Kigoma, Kilimanjaro, Lindi, Mara, Mbeya, Morogoro, Mtwara, Mwanza, Pemba North, Pemba South, Pwani, Rukwa, Ruvuma, Shinyanga, Singida, Tabora, Tanga, Zanzibar Centraal/Zuid, Zanzibar Noord, Zanzibar Urban / West, Ziwa Magharibi

Het islamitische eiland Zanzibar [ vroeger een sultanaat ] is een autonoom deel van Tanzania.

Tanzania is de meest gezochte safari-bestemming in Afrika

Hoofdstad van Tanzania: Dar Es Salaam


hotels, nationale parken, reisbureaus, reisgidsen, vakantiewoningen, reizen naar tanzania

links


Hotels in Tanzania / Hotels in Zanzibar / Guesthouses



Expedia.nl - Hotels

Nationale parken / Game reserves [ gr ]



Tanzaniaparks [ officiële website parken in Tanzania ]



Arusha Ngurdoto Crater National Park
The closest national park to Arusha town – northern Tanzania's safari capital – Arusha National Park is a multi -faceted jewel, often overlooked by safarigoers, despite offering the opportunity to explore a beguiling diversity of habitats within a few hours.


Biharamulo - gr


Burigi - gr


Gombe Stream National Park
Made famous by Dr. Jane Goodall and her extensive study of chimpanzees, this small national park in the north-west of Tanzania offers visitors the rare opportunity to observe the chimpanzees. A number of monkey species can also be seen including red colobus, red-tail and blue monkeys. The park is safe for walking and offers rewarding sightings for bird watchers.


Jozani Forest - gr


Kagera Kigoma Game Reserves
Located in the Kagera and Kigoma Regions which border on to Uganda, Rwanda, Burundi and Democratic Republic of Congo. The habitats within the reserves are diverse ranging from extensive wetlands in southern Moyowosi and along the Kagera River to extensive Acacia savannas, the northernmost miombo woodlands and dry montane forest. A few large lakes are included. Important populations of shoebill storks, sitatunga, sable and roan antelope are found here. Elephants still migrate between Moyowosi and Burigi Game Reserves


Katavi National Park
Situated in Mpanda District in Rukwa Region in the west of Tanzania close to the Lake Tanganyika. About 60 % of the district's area of 47.527 sq.km. is under natural resources management in form of forest reserves, game reserves and a national park. The national park contains the seasonal lakes Katavi and Chada and the floodplains of Kavu River in the Great Rift Valley. It ascends to its eastern escarpment showing a high diversity of landscapes, wildlife and vegetation. The game reserve extends from the eastern escarpment to the hilly central plateau and includes the northern part of Lake Rukwa.


Kilimanjaro National Park


Kilombero - gr


Lake Manyara National Park
Lake Manyara National Park is situated on the western slopes of the Rift Valley with the Lake spanning a total of 390sq. kms, two thirds of the total park area.
From the top of the escarpment where most lodges are situated, there is a magnificent view of the lake and the surrounding National Park. It is often possible to spot herds of buffalo and elephant from the lodges


Lukwika Lumesule - gr


Mahale Mountains National Park


Mkomazi - gr


Mikumi National Park


Ngorongoro Conservation Area - zie Ngorongoro-crater-africa.org
The Ngorongoro Conservation Area, established in 1959, is a pioneering experiment in multiple land use.
Here pastoralism, conservation and tourism co-exist in a carefully managed harmony. The centrepiece of the Ngorongoro Conservation Area is the breathtaking Ngorongoro Crater which is a caldera
The Crater floor is a natural sanctuary for thousands of animals and many species of insects and birds. Lush highlands surround the Crater, falling away to the tawny plains and alkaline lakes of the Great Rift Valley.


Pangavini Marine Resort - gr


Pugu/Kazimzumbwi - gr


Ruaha National Park


Rumanyika Urugundu - gr


Selous Game Reserve
The largest game reserve in Africa. Within its borders, the landscape changes from savannah and grassland plains to woodland and rocky massifs. The Rufiji River and its subordinates, the Kilombereo and Luwegu, dominate the Selous forming a river system with the largest catchment area in East Africa.
This is the place to see stunning concentrations of elephant, buffalo, rhino, hippo and crocodile. Plains animals abound with zebra, impala, wildebeest, hartebeest, sable antelope, eland, waterbuck, warthog and the unique Nyasa white-faced wildebeest. Other treats to see are Sharpe's grysbock, sassaby and flying squirrel plus over 350 bird species.


Serengeti Park
The Serengeti region encompasses the Serengeti National Park itself, the Ngorongoro Conservation Area, Maswa Game Reserve, the Loliondo, Grumeti and Ikorongo Controlled Areas and the Maasai Mara National Reserve in Kenya. Over 90,000 tourists visit the Park each year.
Tarangire National Park

Reisbureaus / Touroperators / Reisorganisaties



NRV Reizen naar Tanzania
o Groepsrondreis - 12-daagse rondreis Het Mooiste van Kenia & Tanzania
o Privérondreis - 12-daagse rondreis Het Mooiste van Oost-Afrika



Kuoni - Tanzania



FOX Vakanties Tanzania - Groepsrondreizen Tanzania



Djoser Wandel - wandelreis Tanzania - Wandelen met Djoser
U beklimt de Kilimanjaro, Afrika's hoogste berg, via de Maranguroute van zes dagen. Moshi, nabij het Arusha Nationaal Park, is de uitvalsbasis van deze beklimming. U sluit de reis af in Nyali Beach, even ten noorden van Mombasa om aan het strand bij te komen van deze pittige wandeltocht.



Sawadee - Reizen naar Tanzania



SNP Wandelreizen
Het meest gevarieerde aanbod "waar het asfalt ophoudt…". Van lichte hotelwandelreizen tot pittige wildernistrekkings, van groepsreizen begeleid door ervaren reisleiders tot volledig individuele wandelarrangementen.



Koning Aap Reizen - Tanzania en Zanzibar-



Djoser.nl - De andere manier van reizen
'De andere manier van reizen' van Djoser is er voor iedereen die veel individuele vrijheid wil combineren met het gemak van een groepsreis. Djoserreizigers zijn nieuwsgierig naar het dagelijks leven in andere culturen, genieten van eeuwenoude kunstschatten en willen zich laten overrompelen door de schoonheid van ongerepte natuur.

Inkomend toerisme



True Africa - safaris vanuit hier arusha
Kleinschalig en op exclusieve basis. Ze nemen u mee naar stammen en plaatsen die maar zelden door reizigers worden bezocht. Interesse en respect voor het Tanzaniaanse volk staan op de voorgrond. Opgezet door Nederlanders en Tanzanianen, die de reizen vanuit Arusha organiseren.



African Horizons Travel & Safaris - Nairobi, Kenya based tour operator

Reisgidsen / reisliteratuur



Bruna -



De ijssalon van dokter Harry - Bas Vlugt - In het voetspoor van Dokter Livingstone
Er is geen gebied in de wereld waar de tegenstellingen tussen verschillende bevolkingsgroepen groter zijn dan in zuidelijk Afrika. Als de jonge programmamaker Bas Vlugt door de redactie van het programma 'In het voetspoor van...' naar Zuid-Afrika wordt gestuurd om veldonderzoek te doen, ondervindt hij dat aan den lijve.
Beginnend in Kaapstad maakt Bas Vlugt een lange reis door Zuid-Afrika, Botswana, Namibie, Zambia en Zimbabwe. Hij bezoekt de
plaatsen waar de legendarische ontdekkingsreiziger David Livingstone in de 19e eeuw langstrok. Een kleurling priester in de trein, Afrikaners in een cafe, zwarten in een township en een dronken Nederlandse arts in een desolaat provinsiestadje in Zambia.

De ijssalon van Dokter Harry is een schitterende reisroman. Op nuchtere en humoristische wijze geeft Bas Vlugt een beeld van het zuidelijk Afrika van Livingstone en het zuidelijk Afrika van nu.

Bas Vlugt is freelance journalist. Hij schrijft over marketing en media voor vaktijdschriften als Adformatie en Emerce. Daarnaast maakt hij reisgidsen over Afrika, een continent dat hij als het even kan meerdere malen per jaar bezoekt.

Vakantiewoningen Tanzania



To Escape to
Search their unique selection of holiday villas, boutique apartments, luxury guest houses, hip hotels and safari camps. They offer stylish accommodation as well as your choice of holiday lifestyle.

Vervoer van / naar Tanzania



Luchthaven Dar-es-Salaam International Airport - 13 km van de stad Dar-es-Salaam


Luchthaven Kilimanjaro International Airport - 50 km van de stad Arusha


Luchthaven Zanzibar - 6 km van de stad Zanzibar



KLM / Air France - Vliegtickets Tanzania



Vliegtickets Tanzania / goedkoop vliegen Tanzania
Diverse maatschappijen, prijsvergelijking vliegtickets Tanzania mogelijk.



Tanzania Railway Corporation - Tanzaniaanse spoorwegen - s poorboekje
Verbinding Dar-es-Salam - Lusaka v.v. en Nairobi - Moshi v.v.
Klanteninformatiecentrum is gevestigd op het station van Dar es Salaam


TAZARA - gemeenschappelijke spoorwegen van Tanzania en Zambia.
Verbindt de haven van Dar es Salaam met Zambia; handelt het vrachtvervoer af voor de landen Malawi, Zambia, Zimbabwe en de Democratische Republiek Kongo.



Landkaart Tanzania [ Uni Texas - Perry-Castañeda Library - Map Collection ]


Links / Verwijzingen



Tanzania Tourist Board - VVV Tanzania - Toeristenbureau



Dar es Salaam - nationale hoofdstad



Campi ya Kanzi
Campi ya Kanzi features Maasai-led walking safaris in Kenya. Experience the thrill of tracking game on foot with traditional Maasai! Located in Kenya's prime game area between Amboseli and Tsavo parks, the camp provides luxury tented camp lodgings for your exclusive private safari


CDC Travel Information
Prima bron voor 'up to date' informatie m.b.t. je gezondheid en reizen in Afrika.


Hadzabe
Small groups of Hadzabe bushmen live around Lake Eyasi. Their language resembles the click languages of other bushmen further south in the Kalahari. Their small population was seriously threatened, in particular during the period when Julius Nyere tried to introduce his Ujuma policy. The tribe resisted the forcible settlement policies of Julius Nyere and nowadays most of their children have never seen a doctor or school - the bush provides for all their needs and is a class room for their offspring


Hassan Ali's Homepage


International School of Tanganyika
Provides an outstanding educational experience for children of over 60 nationalities living in Dar es Salaam. From environmental field work on the Serengeti plains and marine biology exploration on the coral reefs off Zanzibar to summiting Mt. Kilimanjaro at dawn, IST provides learning experiences as diverse and exciting as Tanzania itself.


Kilimandjaro - de berg Kilimanjaro
Highest mountain in Africa (5,896m) and the tallest free standing mountain in the world. Three volcanic centres, Shira, Mawenzi and the ice and snow-capped Kibo add character to this dormant mountain.
The vegetation bands range from the lush forests that completely encircle the slopes to the permanent ice fields gracing the peaks of the mountain. The fauna includes black and white colobus monkey, blue monkey, bushbuck, eland, leopard, elephant, buffalo and the rare Abbot's duckier.


Lake Eyasi
A mildly alkaline lake stretching for about 50km to the south-west. To the north-east the horizon is dominated by the Crater Highlands, to the north, beyond an escarpment the plains of the Serengeti. Over 100 years ago when the stronger Masaii tribes moved into the Ngorongoro and Serengeti, the Datoga and other indigenous bushmen living there were pushed south. Many made Lake Eyasi and its surrounding bush and forests their home.


Lake Malawi - Meer van Malawi ??


Livingstone - ontdekkingsreiziger


Masai - Maasai Heritage Preservation Foundation
Provides education and healthcare to the Maasai people of Kenya and Tanzania while maintaining the traditions and culture, thus empowering the Maasai to communicate and be competetive in the modern world of the 21st century.


National Bank of Commerce


Ngorongoro Krater
This collapsed volcano is the largest, unbroken caldera in the world and spans 260sq. kms. Remnants of an evergreen temperate forest, extinct in the rest of East Africa still exist within it. The forest's cedar and pillar trees are gloriously draped with lichens, ferns and orchids.
Ngorongoro Crater is home to elephant, buffalo, hyena, jackal, wildebeest, zebra, Thompson's and Grant's gazelles, eland, hartebeest, black rhino, waterbuck and hippo. The large number of plains game attract the predators: black-manned lion and sometimes leopard.


PBS - Living Edens - Ngorongoro, Africa's Cradle of Life
Nearly three million years ago, a massive explosion tore apart an enormous statovolcano in Eastern Africa's Great Rift Valley to form the Ngorongoro Crater, one of the true wonders of the world. Today, the Ngorongoro Crater is a microcosm of African life enclosed in an unique place. This Living Eden is a glorious stage where lions, hyenas, cheetahs, jackals, vultures, servals and wildebeest act out a dramatic story of life and death that was set into motions so long ago.


The Saadani ecosystem
Situated along the coast of the Indian Ocean, around 100 km north of Dar es Salaam and close to Bagamoyo. It comprises the Saadani Game Reserve including Southern Mkwaja, a former ranch, which has been incorporated into the reserve in 1996 (total about 500 sq.km.), Zaraninge Forest Reserve (180 sq.km.) and approx. 1000 sq.km. of wildlife country around the protected areas. It is situated in Pangani, Handeni and Bagomoyo Districts


Selous Game Reserve
Is the largest protected area in Africa. It encompasses a wide variety of wildlife habitats, including open grasslands, acacia and miombo woodlands and riverine forests. The reserve contains some of the largest and most important populations of elephants, buffalos and wild dogs in Africa. About 60% of Tanzania's elephants are found there. With its extensive area of miombo forests, the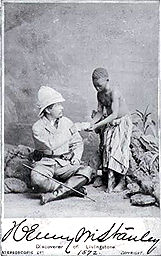 Selous is one of the largest forest areas under protection.


Stanley - ontdekkingsreiziger
Ofwel John Rowlands, Amerikaans journalist. Werd in 1869 door zijn hoofdredacteur uitgezonden om de in West-Afrika vermiste schotse missionaris David Livingstone op te sporen. Men had niets meer van hem vernomen sinds zijn melding dat hij op zoek was naar de bron van de Nijl. Op 10 november 1871 vond hij Livingstone [ 'Livingstone, I presume' ].


Sukuma Museum
The Bujora Cultural Center and Sukuma Museum in Kisesa, Tanzania, are historical institutions founded for the education and support of Sukuma culture. The arts of the Sukuma culture are among the richest in East Africa. As the Sukuma people are the largest cultural group in Tanzania, the Sukuma culture is dispersed throughout the country. The heart of Usukuma is in the Lake Zone of Mwanza, Shinyanga and the Mara regions where the legacy of a rich art tradition is now maintained.


Swahili - Internet Living Swahili Dictionary - Yale Universiteit


Tanzania Education Website
Aim: providing accurate and reliable information about the Education Services in Tanzania


Tanzania Safari


The Arusha Times - online-versie van de krant


Wildlife Programme Tanzania
O.a. de projecten Selous, Saadan, Katavi Rukwa, Kagera Kigoma en het Selous Rhino Project


Victoriameer

Cuisine - Tanzaniaanse Recepten



Gerechten uit Tanzania - Esther's Tanzaniaanse recepten



African Studies - The African Cookbook - Menus & Recipes from Africa

Geschiedenis van Tanzania

Tanganyika werd onafhankelijk op 9 december 1961 (from UK-administered UN trusteeship)

Zanzibar werd onafhankelijk op 19 december 1963 [ van GB ]

Tanganyika vormde samen met Zanzibar vanaf 26 april 1964 de Verenigde Republiek van Tanganyika en Zanzibar; op 29 oktober 1964 herbenoemd in de Verenigde Republiek Tanzania.



Oudste voetsporen ter wereld - 23-meter lang spoor van voetafdrukken
De laag waarin de voetsporen voorkomen zijn een dikke 3 miljoen jaar oud. Te vinden in het Ngorongoro Conservation Area, Laetoli vicinity park in de provincie Arusha, Noord-Tanzania. Zie Wikipedia [ Laetoli footprints ].



Hassan Ali's Homepage
Some interesting stuff about Hassan, his country Tanzania, and Swahili, the language spoken in Tanzania.

Muziek, Kunst & Cultuur



Michael Babatunde "Baba" Olatunji
Babatunde Olatunji was a virtuoso of West African percussion.His 1959 album "Drums of Passion" was a worldwide smash hit. He received a Grammy Award in 1991 for his collaboration with Grateful Dead drummer Mickey Hart on their Planet Drum album. He was also the founder of the Voices of Africa foundation


Swahili
Het Swahili is één van de belangrijkste talen van Afrika en wordt gesproken door zo'n 40 miljoen mensen in oostelijk Afrika. Het is de nationale taal van Kenia, Tanzania en Uganda. Het Swahili is oorspronkelijk een Afrikaanse taal, maar door de vele contacten met andere culturen, zijn er veel woorden uit andere talen in het Swahili opgenomen, o.a. uit het Arabisch en Perzisch.