BAHREIN > MIDDEN-OOSTEN


Vakantie in Bahrein - Reisinformatie Bahrein.

Koninkrijk Bahrein - Dawlat al Bahrayn - Al Bahrayn

Gemeentes in Bahrein i Bahrein [ manatiq ]: Al Hadd, Al Manamah, Al Mintaqah al Gharbiyah, Al Mintaqah al Wusta, Al Mintaqah ash Shamaliyah, Al Muharraq, Ar Rifa'wa al Mintaqah al Janubiyah, Jidd Hafs, Madinat Hamad, Madinat 'Isa, Juzur Hawar, Sitrah.

Bahrain is een groep van 33 eilanden in de Perzische Golf [ zie opmerking ] voor de oostkust van Saudi Arabië.

The state takes its name from the largest island Bahrain. It is linked by causeways to Muharraq [ internationale luchthaven ] en Sitra [ industriegebied en tankopslag ].

There are numerous other tiny islands, but they are mainly uninhabited and are best known for the variety of migrating birds which pass through in spring and autumn.

Hoofdstad van Bahrain : Manama


autoverhuur, hotels, reisbureaus, reisgidse, reizen naar bahrein

links


Recente reisadviezen - zie pagina reisadvies

Autoverhuur



Expedia





Hotels in Bahrein



[ ebookers ] Hotels in Bahrein - Hawar Island en Manama




Baisan Hotel

Reisbureau / Reisorganisatie



Expedia - regel je eigen vlucht en hotel



Albadar Travel Agency
AlBader Travel & Tourism is one of the leading and progressive travel agencies in Bahrain, providing a wide range of travel and travel-related services for inbound and outbound travel.


Aquatique Dive School
As a PADI 5 Star Instructor Development Centre, AQUATIQUE offers the full curriculum of Snorkelling and Scuba education and experiences from a 'bubbling' excursion in the pool... to professional career and Instructor Training... and beyond.
Aquatique also conducts dive experiences and excursions from 2 major resort hotel complexes. Le Royal Meridien Hotel in Bahrain and The Hawar Resort Hotel at Hawar Island. Both of these facilities offer a wide range of snorkelling and scuba diving experiences designed for the beginner and the virtuoso.



Reisgidsen Bahrein / Reisliteratuur



Bruna -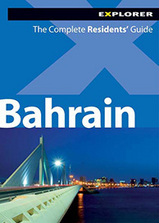 Reisgids Bahrein explorer
More than just a travel guide, the Bahrain Complete Residents' Guide is your guide to life in 'The island of the Golden Smile'. Written by residents, for residents, the sheer volume of insider information has no comparison. From housing and work to exploring the city and beyond; and from sports clubs and shopping to the finest restaurant and cafes in town, we've got it all covered.
Key Points
Explorer guides; Aantal blz.: 360; 2006; ISBN 9789768182524.

Vervoer / Hoe reis ik naar Bahrein



Bahrain International Airport



- vliegtickets naar Bahrein



Losse vliegtickets naar Bahrein / goedkoop vliegen naar Bahrein
Diverse aanbieders / Prijsvergelijking vliegtickets Bahrein mogelijk.



Kaart van Bahrein [ Uni Texas - Perry-Castañeda Bibliotheek - Map Collection ]


Dubai, United Arab Emirates, Qatar and Bahrain
The Rough Guide Map Dubai, United Arab Emirates, Qatar and Bahrain is the most detailed and comprehensive map to this intriguing destination. The scale of 1:470,000 allows for enough detail to include even the smallest dirt tracks and settlements whilst also being a manageable size for use in the car or whilst walking. Pinpointed on the map are places of interest, including archeological sites, oases, nature reserves, desert and dunes. Whether you're heading off the beaten track or on a stopover in dubai this map is your essential companion.
Map 1 pages (September 30, 2004); Publisher: Rough Guides; Language: English; ISBN: 1843533758


Links / Verwijzingen


LOI -
Wil je Arabisch leren? Bijvoorbeeld omdat je voor je werk of privé-leven gebruikmaakt van deze taal? Dan is deze cursus perfect voor jou. Op een slimme manier leer je de taal spreken, verstaan, lezen en schrijven. Ook kom je met de cursus van alles te weten over de Arabische cultuur.
Na de cursus leg je gemakkelijker contact met Arabieren en ben je in staat een gesprekje te voeren. Verder leer je het Arabisch zodanig verstaan dat je programma's op radio en tv aardig kunt volgen.



Tourism in Bahrain - toeristenbureau van Bahrein
A.o. History, Tourist Attractions, Hotels & Apartments, Restaurants, Rent a Car, Banks, Travel Agencies, Clubs & Resorts, What's on in Bahrain, Search, Enquiries, F.A.Q's, Conferences & Exhibitions and Photo Gallery



Overheid van Bahrein - State of Bahrain



Manama - Hoofdstad van Bahrein
Situated on the Persian Gulf, in the northeast of Bahrain Island



Al Hadd


Al Manamah


Al Mintaqah al Gharbiyah


Al Mintaqah al Wusta


Al Mintaqah ash Shamaliyah


Al Muharraq


Ar Rifa' wa al Mintaqah al Janubiyah


Jidd Hafs


Madinat Hamad


Madinat 'Isa


Juzur Hawar


Sitrah.



Al-Jasra House
The house was built by Shaikh Hamad bin Abdulla Al Khalifa in 1907, and was the birthplace of the present Amir in July 1933. Restored in 1986 and are now open to the public.


Al Jazaer Beach - Strand


Al-Khamis Mosque - moskee
one of the oldest relics of Islam in the region, and the foundations are believed to have been laid as early as 692AD. An inscription found on the site, however, suggests a foundation date sometimes during the 11th Century. It has since been rebuilt twice in both 14th & 15th centuries, when the minarets were constructed.


Arad Fort
This 16th century fort of Arabic construction is probably one of the first landmarks you will see upon arrival to Bahrain due to its proximity to the airport.


Bahrain Fort - Fort van Bahrein
The first dwellings on the site are believed to have been constructed around 2800 BC, and have subsequently been overlaid by numerous fortified settlements. The last was built in the early 16th century to defend Portugal's recent acquisition of the islands-for this reason, it is also known locally as the Portugueese Fort.


Beit Al Qur'an - House of the Qur'an
The House of the Qur'an was built to accommodate a comprehensive and valuable collection of the Holy Qur'an and manuscripts, a concept which is unique in the Arabian Gulf.


Barbar Temple
Excavations, which were begun in the 1950s and 1960s, have revealed three stone-built temples dating from the second and third millennia BC. It is believed that they were built as a place of worship for the God of Spring Waters, Enki, and a sacred well within the complex strengthens this theory.


Hawar Islands


Museum of Pearl Diving - Museum over parelduiken
The 'Museum of Pearl Diving' building is regarded as one of the most important and historic buildings in Bahrain . Its importance derives from being the first official center for the Bahrain Courts.


Salman bin Ahmed Al fateh Fort
Standing on a low escarpment, overlooking the valley between the east and west Riffa the fort held an ideal strategic position during the 18th century


Shaikh Isa's House
Shaikh Isa's house, in the old town of Muharraq, was once the home of the Amir`s great-grandfather, Shaikh Isa Bin Ali Al khalifa . It provides a fine example of local architecture, complete with wind tower, wall carving and lattice work, and its representative of traditional 19th century life. One of the early forms of " air conditions" was the wind tower, a traditional landmark of local architecture. This would act as a funnel, catching the breeze and drawing it down it down into the cavities below, as well as allowing the release of hot air like a chimney.


Soukhs in Bahrein
The Soukh, The Gold Soukh en The Cloth Soukh


Siyadi House
One of the most impressive examples of a 19th century built by the pearl-merchant Ahmed Bin Qassem Siyadi and has many fine features to look out for, including ornate ceilings, stained-glass windows, carved screens and a large safe set into the wall of a small, upper reception room.



Bahrain International Circuit
Grand Prix van Bahrein [ F1 ] en meer...


Duiken
Up to 30 species of coral and in excess of 200 species of fish can be found, in particular, on the northern offshore reefs of Bahrain. Here, divers, underwater photographers and snorkellers can discover a myriad of Indo Pacific species including clown fish, trigger fish, surgeon fish,turtles, rays, lion fish,grouper, snapper, crayfish and even whalesharks; while tuna, mackerel, trevally and barracuda cruise above. In addition to reef diving there are a number of wrecks around the island, including ships, planes, tugs and barges that have something special to offer the inveterate diver. Dugongs (sea cows) can also be seen feeding on the sea grass in the southern waters of Bahrain during the cooler winter months.


Golf - Riffa Golf Club
Bahrain's first international 18 hole grass golf course, just 15 minutes from the country's capital Manama and 20 minutes from the King Fahad Causeway link with Saudi Arabia.


Paardenraces
Bahrain's love of all things equestrian is further revealed in its splendid racetrack, together with a grandstand those seats 10.000 spectators. Meetings are held every Friday from October to March. Car parking and programs are free; however, betting is strictly prohibited.


Pers - Akbar AlKhaleej - krant in 't arabisch


Pers - Al Ayam - krant in 't arabisch


TV - Bahrain television


Krant - Bahrain Tribune


Krant - Gulf Daily News


Parelduiken
Recorded as far back as 5000 years ago, Pearl Diving has been Bahrain's heritage for millennia and ,today, these same productive oyster beds (the largest of their kind in the world) continue to flourish.

Culinair - Bahreinse keuken



Culinair - arabische recepten

Geschiedenis van Bahrein

Known in ancient times as Dilmun, Bahrain was an important center of trade by the 3rd millennium B.C. The islands were ruled by the Persians in the 4th century A.D., and then by Arabs until 1541, when the Portuguese invaded them. Persia again claimed Bahrain in 1602. In 1783 Ahmad ibn al-Khalifah took over, and the al-Khalifahs remain the ruling family today. Bahrain became a British protectorate in 1820. It did not gain full independence untill Aug. 14, 1971.



Bahrain's History - Wikipedia
Bahrain was once part of the ancient civilization of Dilmun and served as an important link in trade routes between Sumeria and the Indus Valley as long as 5,000 years ago.
In the first century AD, Bahrain was referred to by the Greeks as "Tylos", the centre of pearls trading...



National Museum


Oil Museum - Olie Museum
Houses some fascinating exhibits, including drilling equipment, documents, old photographs and a working model of an oil rig.


Oil Well No.1 - Oliebron nummer 1
As its name suggests, this is the first oil well in the Gulf. "Spurted" on 16th October 1931, the well finally began to blow heads of oil on the morning of 2nd June 1932, too much celebration on the part of those involved in the project. It is situated below jebel Dukhan, the Mountain of Smoke, which, at a height of 134 meters (450 feet), is the highest point of the island. Its name comes from the misty haze, which frequently surrounds it on a hot and humid day.

-----

Opmerking
Sinds het toenemende nationalisme in de zestiger jaren in de diverse Arabische staten, is rond de juiste naamgeving van de Perzische Golf een namenstrijd tussen Iran en de Arabische staten ontstaan. Hoewel de laatste de naam 'Arabisch-Perzische Golf' voorstaan, houdt Iran vast aan de al lang bestaande naamgeving. De UNO gebruikt de naam Perziische Golf en beveelt aan om die vooralsnog te gebruiken.