IRAK > MIDDEN-OOSTEN


Reizen naar Irak.

Republiek Irak - Al Jumhuriyah al Iraqiyah - Al Iraq

Ongeveer 5000 jaar geleden ontstond in Irak de eerste menselijke beschaving.
Tussen de rivieren Euphraat en Tigris werden de eerste steden gesticht, de eerste woorden opgetekend, de eerste wetten gemaakt. Hier probeerden de eerste wetenschapper hun omgeving te begrijpen en verrijkte bijzondere geschriften de geesten van de mensen.

Provincies in Irak [ muhafazat ] : Al Anbar Muhafazah, Al Basrah, Al Muthanna, Al Qadisiyah, An Najaf, Arbil, As Sulaymaniyah, At Ta'mim, Babil, Baghdad, Dahuk, Dhi Qar, Diyala, Karbala', Maysan, Ninawa, Salah ad Din, Wasit

Steden in Irak: Nineveh, Basrah, Al Tamam, Wast, Irbil, Kerbala, Kirkuk, Maysian, Mosul, Najaf, Al-Anbar, De Kair, Al Cadesia, Babylon, Quma, Samarra

Shatt al Arab [ waterweg ], Shatt al Basrah kanaal, Euphraat & Tigris [ rivieren ]

Hoofdstad van Irak: Bagdad


hotels, reisbureaus, reisgidsen, reizen naar irak

links


Hotels in Irak



Expedia



Hotels in Irak

Reisbureaus / Reisorganisaties / Irak-specialist



Babylon Tours - Reizen naar Koerdistan
Babylon Tours organiseert reizen naar het veilige Koerdische deel van Irak, en naar de Kaukasus (Armenie, Georgie, Azerbedjan). Tevens worden naar deze gebieden reizen voor ondernemers verzorgd.


Koning Aap Reizen [ anvr / sgr ]
Ontdekkingsreizen, op maat gesneden arrangementen, taalcursussen en informatiebijeenkomsten.


Rosetta Reizen [ sgr ]



Baghdad Reizen - specialist in reizen naar Irak



Bedu Expeditionen - Reizen zijn niet altijd zeker!
Da Irak nicht auf dem direkten Weg angeflogen werden kann, bietet sich die Anreise über Iran an. Von Teheran Flug nach Kermanshah, weiter nach Baghdad, Besichtigungen im Irak: Samarra, Nimrud, Ninive, Hatra, Babylon, Ur und Uruk. Rückfahrt über Kermanshah und Ahvaz (15 Tage).

Reisgidsen / Reisliteratuur



Bruna -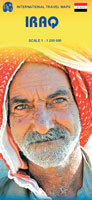 Landenreeks Irak
Niet zozeer een reisgids, maar meer een journalistieke benadering van verschillende algemene aspecten van het land als onderwijs, economie, politiek en geschiedenis
K. I. T; ISBN 9068323954.


Landkaart - Wegenkaart Irak | ITMB
Een degelijke kaart met aanduidingen van o.a. nationale parken, vliegveld, benzinepomp, dirt-roads en kleine plattegrond van hoofdstad. Als overzichtskaart goed te gebruiken.
2008; ISBN 9781553412540; 1:1.200.000.



Baghdad Mini Guide - Catherine Arnold
Behind the shattered images flashed up daily on TV screens around the world, is a vibrant capital bustling with life and steeped in history. Baghdad is a beautiful city, in which the very old rubs shoulders with the new, where Ottoman villas crouch next to high-rise hotels and the crumbling splendour of the caliphate jostles for attention with designs by Le Corbusier.
While the guide contains a mass of information for those working in the city, including up-to-date maps, telephone numbers and practical advice, it will also offer a glimpse at this other face of Baghdad for those with no intention of ever visiting. The Baghdad of daily life; shops, restaurants, tennis-clubs and souqs in addition to detailed descriptions of historical sites.
A 50 page history section, divided into small, easily digestible chunks, provides a backdrop to the current situation, for anyone interested in putting the news into an historical context: From the founding of Baghdad in 762AD to the 2004 handover with a focus on the last 100 years -- including the last attempt to install a democracy at the beginning of the 20th century.
Paperback 208 pages (June 1, 2004); Publisher: BRADT Travel Guides; Language: English; ISBN: 1841620971.


Dangerous Destinations - Andrew Duncan, Michel Opatowski
This pocket guide for the serious traveller or journalist covers the world's most dangerous travel destinations, from Afghanistan to Zimbabwe. Each destination has a concise, but detailed, historical background to the causes of conflict, with information about what has happened, what is currently happening, attempts to resolve the situation and what the future may hold. The authors do not attempt to criticize or offer answers, concentrating instead on the advantages and disadvantages of possible options. They also assess the likelihood of violence spreading from the original outbreak. Advice on travel safety from organizations such as the Foreign Office and Commonwealth Office is supported with maps of the area and a comprehensive list of useful websites for further information. This book should also appeal to the general reader.
Paperback 288 pages (November 14, 2002); Publisher: Sutton Publishing; Language: English; ISBN: 0750929782

Vervoer / Hoe reis naar Irak



Luchthaven van Bagdad - Baghdad International Airport [ BIAP ] - voormalig Saddam Airport
Located approximately 16 kilometers West of Baghdad. The airfield is a joint civil-military airport, with a civil international terminal on one side and a smaller military ramp on the other.


Luchthaven Basra - Basrah International Airport

Major air bases are located at Al Sahra, Al Taqaddum, Amara New, Baghdad/Muthenna, Balad Southeast, Irbil , Injanah, Jalibah, Karbale Northeast, Kirkuk, Mosul, Najaf, Qayyarah, Rasheed, Safwan, Salman Pak, Salum, Samarra East, Shaibah, Shayka Mazhar, Sabakhu, Tallil, and Ubaydah Bin al Jarrah. In addition, there are 73 other airports of varying sizes scattered around the country.



Lufthansa - vanaf medio juni 2010 vliegt Lufthansa via Frankfurt en München op Bagdad



Air Iraq / Iraqi Airways - Bagdad en Basra
The airline operated a.o. to Amman and Damascus


Royal Jordanian ???

Vluchten via Iran, Kuweit, Jordanië, Syrië, Turkije ??

Er is een treinverbinding tussen Baghdad, Mosul en Basra.

Orange and cream taxis are in service on routes between towns and cities. Taxis can be shared or hired individually.

Wellicht de beste legale manier om in Bagdad te komen: busvervoer / taxivervoer over de weg via Jordanië.



Landkaart van Irak


Kaart van Irak bij Travelmap.nl


Links / Verwijzingen



Reischeques - American Express
Welke voordelen bieden Euro Travelers Cheques boven contant geld?
American Express Travelers Cheques verlopen nooit en kunnen bij verlies of diefstal, binnen 24 uur worden vervangen.



LOI -
Na de cursus leg je gemakkelijker contact met Arabieren en ben je in staat een gesprekje te voeren. Verder leer je het Arabisch zodanig verstaan dat je programma's op radio en tv aardig kunt volgen.



Iraq Tourism Board - officiële site
Transportation, religious tourism, historical tourism, accommodation, etc.



Iraqi Interim Government
Here you will be able to see information about the activities of the Iraqi Government.
The site is divided into sections about the President, Prime Minister and the Council of Ministers' Secretariat and links to Ministries.



Bagdad - hoofdstad van Irak
During the 8th and 9th centuries AD, Baghdad was at the height of its commercial prosperity. Under the rule of the caliphs Mahdi and Harun, it became the centre of many important trade routes between the east and west. Its many impressive buildings and magnificent gardens gave it the reputation of the richest and most beautiful city in the world.



Al Anbar Muhafazah [ Provincie ]


Al Basrah


Al Muthanna


Al Qadisiyah


An Najaf


Arbil - In en om Arbil.
Musea, bazar, Christelijke dorp Aynkawa, tapijtknoperij, Shaqlawa, Salahuddin, Sara Rush, Gully Ali Beg, Gully waterval, Bekhal waterval.


As Sulaymaniyah - In en om Sulaimanya.
Haibetsultan gebergte, Dokan meer, Sarchinar, Halabya, Sharazour vlakte, archeologisch museum.


At Ta'mim


Babil


Baghdad [ Provincie ]


Dahuk - In en om Dohuk.
Dohuk museum, diverse archeoligische sites, Sarsang, Zawita, Suaratuka, Ashawa watervallen, Amadiya, Anshki, Sulaf.


Dhi Qar


Diyala


Karbala'


Maysan


Ninawa


Salah ad Din


Wasit



Zone Centrum-Zuid - onder Pools commando
Met o.a. de steden Al-Kut, Diwaniya, Hillah, Hindiya, Kerbala, Najaf,


Zone Noord-Centrum - onder Amerikaans commando
Met o.a. de steden Arbil, Bagdad, Bashur, Dohuk, Kifri, Kirkuk, Mosul en Tikrit


Zone Zuidoost - onder Brits commando
Met o.a. de steden As Samawah, Basra, Khidr, Nassiriya, Rumaytha, Shaibah, Talli, Umm Qasrl



Al Abtak - grensplaats nabij Syrië
Deel Soennitische bewoners verdient zijn geld al eeuwen met smokkel. Van oudsher deed de overheid een oogje dicht, maar door de terroristendreiging in een moeilijk parket gekomen.


Basra - tweede stad van Irak en belangrijke zeehaven
Originally intended as a military base, the city was founded in AD637 by Caliph Omar. During the 16th century it became an important departure point for Arab trading ships sailing to the Far East.
Because of its location, it was the site of many battles between the Turks -- as it was at this time part of the Ottoman Empire -- and invading Persians or Marsh Arabs.


Nineveh - net buiten Mosul op de oostelijke oever van de rivier de Tigris
It was the third capital of Assyria dating from the reign of Sennacherib [ 704-681 BC ] and was one of the most powerful cities of the Middle East, the hub of the civilized ancient world. Its downfall came in 612BC, when it was sacked by the Medes of Northern Persia.


Nimrud - ongeveer 37 km zuidelijk van Mosul, op de oostelijke oever van de Tigris-rivier
It was first designated as the Assyrian capital by Ashurnasirpal II in 879 BC and was known as Kalhu (mentioned in Genesis as Calah). Later, with the accession of King Sargon II, it was replaced by Khorsabad as the new capital in about 720 BC. In 612 BC, it was destroyed by the Medes of Northern Persia, at the same time as the fall of Nineveh.


Babylon - 90 km zuidelijk van Baghdad
It is perhaps the most famous of all the ancient sites in Iraq. First reaching prominence under King Hammurabi, and achieving its zenith during the reign of King Nebuchadnezzar II (605-56BC), Babylon was renowned for its high, well-fortified walls and for the magnificence of its temples and palaces.
Its famous Hanging Gardens, built by Nebuchadnezzar for his wife Amytas, were one of the Seven Wonders of the World. Amytas was a Mede and her home was in mountainous country, so the King reputedly had the Hanging Gardens built to allay her homesickness


Kerbala - van grote religieuze betekenis voor de moslims
108 km southwest of Baghdad, is the site of the battle of Kerbala, which was fought in AD680 between the two main Islamic sects - Sunni and Shiite. The leader of the Shiite sect and his brother were both killed in the battle. As they were grandsons of the Prophet Mohammed, shrines were built to commemorate them in two mosques in Kerbala. Visiting these shrines is a significant goal for Islamic pilgrims.


Mosul - derde stad van Irak - ligt zo'n 396 km noordelijk van Baghdad
The city was an important trade centre in the Abbasid era, because of its strategic position on the caravan route between India, Persia and the Mediterranean.
Mosul has the highest proportion of Christians of all the Iraqi cities, and contains several interesting old churches, including the Clock and Latin Church, which contains some fine marble and stained glass. The Chaldean Catholic Church of Al-Tahira was built as a monastery in AD300 and became a church in 1600, when various additions were built.


Najaf - van grote religieuze betekenis voor de moslims
Najaf contains the tomb of Ali ibn Abi Talib in a mosque in the city centre. The sacred shrine commemorates a cousin and son-in-law of Mohammed, who founded the Shiite sect.


Rabiyah - grensovergang met Syrië - hier ligt een Amerikaanse basis



Ark van Ctesiphon - verwoeste stad Ctesiphon
The city was first built in the second century BC by the Parthian Persians. Today there is very little left of its former glories, except a colossal arch which is thought to have once formed part of a great banqueting hall.
Samarra Spiral Minaret - 124 km, north of Baghdad
Its major spot is its 52 meters high minaret.


Euphraat en de Tigris
The rivers were known, through the historical ages, as most important rivers in the world, for the Valley of the Euphrates and the Tigris represents the birthplace of many ancient civilization like the Assyrian, Babylonian and Sumerrous. The cities of Babylon and Akad were built near the rivers. During the rule of the Eastern Roman Empire many villages, arts and literature centers flourished along the river bank. The archaeological excavations on the banks of the Tigris and the Euphrates presented a lot of important historical information.


Moskee van Nebi Yunus - Basra
Said to be the burial place of the Biblical Jonah. It is built on a mound beneath which are thought to be part of the ruins of the ancient city of Nineveh. Any attempt to verify this is impossible, however, as the site is sacred and cannot be disturbed.


Nuriddine Moskee, Basra
Built in 1172, has a famously crooked minaret standing 52 metres high. It is built of very elaborate brickwork and is named after its builder, Nuriddin Zanqi.


Ur of the Chaldees - bij de stad Nasiriya - een van Irak's indrukwekkendste oude steden
In former days it stood on the banks of the Euphrates, until the river changed its course. The earliest buildings date from 4000BC, and there is an impressive ziggurat (pyramid-shaped tower), as well as some royal tombs in a good state of preservation. These tombs are thought to date from about 2600-2000BC.
Ur of the Chaldees is mentioned in the Bible as the birthplace of Abraham, although there is no real evidence to support this statement. On a surer footing, it was the capital of the ancient civilization of Sumeria, and was first excavated in 1922-34 by Sir Leonard Woolley.



Kranten in Irak - links naar Iraakse kranten


Samarra Spiral Minaret - 124 km noordelijk van Baghdad
Its major spot is its 52 meters high minaret.


TV in Irak - Iraq tv


Uruklink

Culinair - Iraakse keuken



Delights from the Garden of Eden: A Cookbook and a History of the Iraqi Cuisine - Nawal Nasrallah
This new Iraqi cookbook contains more than four hundred recipes covering all food categories. There is ample choice for both vegetarian and meat lovers, and many that will satisfy a sweet tooth. All recipes have been tested and are easy to follow
Paperback 664 pages (February 21, 2003); Publisher: AuthorHouse; Language: English; ISBN: 140334793X



ArabicNews Recipes - culinair - arabische recepten
Appetizer& Soups, Salads & Side Dishes, Main Recipes, Yemeni recipes, Gulf Recipes, Misc. Recipes, Deserts & Beverages

Geschiedenis van Irak

Onafhankelijk op 3 oktober 1932 (from League of Nations mandate under British administration)



Iraq's History - Wikipedia
Prehistory Iraq [ Ancient Times and Mesopotamia ], Post-Sumerian civilizations [ Chaldeans and Nebuchadnezzar II of Babylon ], The Muslim Conquest, Modern Times [ The British Mandate Period, The Iraqi Monarchy and The End of the Monarchy ], Rule Under Saddam [ Invasion of Kuwait and the Persian Gulf War, Iraq under UN Sanction and the 2003 invasion of Iraq ], Coalition occupation of Iraq [ Coalition withdrawal ]...



De Altijd Oorlog - Dexter Filkins
Contact, Amsterdam; ISBN 9789025429560, 383 blz.


Stemmen uit de Oorlog - door Rudi Vrankx
Uitgeverij Meulenhoff-Manteau [ Amsterdam / Antwerpen ]; ISBN 9789085421214, 205 blz.


Standaardprocedures gevolgd. Een oorlogsverhaal
Door Philip Gourevich en Errol Morris.
Uitgeverij De bezige Bij, Amsterdam; ISBN 9789023428497; 320 blz.



Iraq Museum International - Open Encyclopedia

Muziek, Kultuur, Evenementen



Greek Thought, Arabic Culture: The Graeco-Arabic Translation Movement in Baghdad and Early 'Abbasid Society (2nd-4th/8th-10th Century)
Dimitri Gutas
From the middle of the eighth century to the tenth century, almost all non-literary and non-historical secular Greek books, including such diverse topics as astrology, alchemy, physics, botany and medicine, that were available throughout the eastern Byzantine Empire and the Near East, were translated into Arabic. This work explores the major social, political and ideological factors that occasioned the unprecedented translation movement from Greek into Arabic in Baghdad, the newly founded capital of the Arab dynasty of the "Abbasids", during the first two centuries of their rule. Dimitri Gutas draws upon the preceding historical and philological scholarship in Greco-Arabic studies and the study of medieval translations of secular Greek works into Arabic and analyzes the social and historical reasons for this phenomenon. He presents a well -documented survey of this key movement in the transmission of ancient Greek culture to the Middle Ages.
Paperback 252 pages (June 25, 1998); Publisher: Routledge,an imprint of Taylor & Francis Books Ltd.; Language: English; ISBN: 0415061334


Music of Iraq
Iraq is known primarily for an instrument called the oud (similar to a lute) and a rebab [ similar to a fiddle ]...


Iraqi cultural heritage sites - zie de The Guardian
Iraq is one huge world heritage site, a unique storehouse of art and archaeology, a.o. The Parthian desert city of Hatra, The restored temple of Nabu sha hare at Babylon, Minaret at Mosul, Main gate at Nineveh, Minaret at Anah, Ziggurat at Ashur, The fourth-century arch at Ctesiphon and Ukhaidir.


New Advent - Babylonia