JORDANIň > MIDDEN-OOSTEN


Vakantie in JordaniŽ - Reisinformatie over JordaniŽ.

Hasjemitische koninkrijk JordaniŽ, voormalig Trans-JordaniŽ

Provincies JordaniŽ : Al Balqa', Al Karak, Al Mafraq, 'Amman, At Tafilah, Az Zarqa', Irbid, Ma'an

Jordan borders Syria to the north, Iraq to the north-east, Saudi Arabia to the east and south, and Israel and West Bank to the west. It shares with Israel the coastlines of the Gulf of Aqaba and the Dead Sea.

Hoofdstad van JordaniŽ : Amman


autoverhuur, hotels, reisbureaus, reisgidsen, reizen naar jordaniŽ

links


Autoverhuur in JordaniŽ




e-sixt -

Hotels in JordaniŽ / Hostels JordaniŽ



[ ebookers ] - Hotels in JordaniŽ
O.a. Amman, Aqaba, Dode Zee en Petra.



Expedia.nl



Jordan Hotel Association

Nationaal Park



Baptism Archaeological Park - oostzijde Jordaanrivier
One of the most significant archaeological and religious discoveries of the past century, it is where Jesus Christ was baptized by John the Baptist who lived and preached in the early 1st Century AD.
The Park includes the area of the baptism of Jesus Christ, and the long-lost settlement of the Bethany beyond the Jordan.

Reisbureaus / Reisorganisaties



Djoser Junior - groepsrondreis naar JordaniŽ
Een vakantie door JordaniŽ is prima geschikt voor wie er met het gezin 9 of 15 dagen tussenuit wil. De weersomstandigheden zijn ideaal en JordaniŽ heeft voor jong en oud tal van bezienswaardigheden. Egypte voegt tijdens de 15-daagse reis een verblijf aan de Rode Zee en een bezoek aan de beroemde eeuwenoude piramides toe.



FOX Vakanties JordaniŽ - Groepsrondreizen JordaniŽ



NRV Reizen naar JordaniŽ
o Groepsrondreis
15-daagse rondreis Betoverend JordaniŽ & SyriŽ en 8-daagse rondreis Mystiek JordaniŽ
o Privťrondreis
8-daagse rondreis Cultuur & Wellness en 8-daagse rondreis Sprookjesachtig JordaniŽ



KRAS Reizen JordaniŽ - B.v. Cultuurschatten van JordaniŽ
Rondreis JordaniŽ met o.a. Amman, rotsstad Petra, Jerash (Gerasa), Dode Zee, rotswoestijn Wadi Rum, berg Nebo en het kasteel Kerak.



Shoestring - Groepsreizen



Jordanian Dreams - Individuele reizen naar JordaniŽ op maat

Reisgidsen JordaniŽ / Reisliteratuur



Bruna - .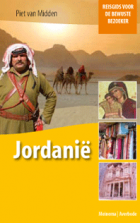 Marco Polo reisgids Jordanien - JordaniŽn


Merian live reisgids JordaniŽ


Reisgids - Te gast in SyriŽ - JordaniŽ - Informatie Verre Reizen


Reisgids Jordan - JordaniŽ - Insight Guide


Reisgids Jordan - JordaniŽ - Rough guide


Reisgids JordaniŽ - Reisgids voor de bewuste bezoeker
Gids voor op reis ťn een boek dat thuis zijn waarde heeft als naslagwerk bij bijbelse verhalen. Ook aandacht voor flora, fauna en keuken.
Meinema; Aantal blz.: 144; 2009; ISBN 9789021142005


Reisgids JordaniŽ - Insight Guide


Reisgids Lonely Planet Jordan - JordaniŽ - Lonely Planet



Klimgids - wandelgids Jordan Walks, Treks Caves, Climbs and Canyons in JordaniŽ
Cicerone.


Shoekran, Jordanie, een belevenis - Ine Andreoli / reisverhaal Jordanie


Wandelgids Treks & Climbs in Wadi Rum - JordaniŽ - Cicerone


Wegenkaart - landkaart Jordan - JordaniŽ - Globetrotter Travel Map


Landkaart - wegenkaart JordaniŽ - JordaniŽn - Freytag & Berndt


Landkaart - wegenkaart JordaniŽ - Reise Know How



Reis door de Orient - Gustave Flaubert, uitgave Kritak 1990


The Innocents Abroad - Mark Twain, uitgave Signet Classics 1980

Vervoer / Hoe reis ik naar JordaniŽ



Luchthaven van Amman - Queen Alia Airport


Rijksluchtvaartdienst JordaniŽ - Jordan Civil Aviation Authority
Info over luchthavens in JordaniŽ [ Koning Hoessein, Koningin Alia en Marka ]



Losse vliegtickets JordaniŽ / goedkoop vliegen naar JordaniŽ
Diverse aanbieders, prijsvrgrlijking mogelijk.


Links / Verwijzingen



LOI -
Na de cursus leg je gemakkelijker contact met Arabieren en ben je in staat een gesprekje te voeren. Verder leer je het Arabisch zodanig verstaan dat je programma's op radio en tv aardig kunt volgen.



See Jordan - VVV JordaniŽ in Amerika



Ministerie van Toerisme en Antiquiteiten in JoraniŽ



Amman - Hoofdstad van JordaniŽ - het vroegere Philadelphia in de Romeinse tijd
The Citadel, a hill with the ruins of the Temple of Hercules crowns the city, located next to it is the museum, rich with artifacts dating back to the earliest settlement in the region, at the foot of the Citadel is the 5,000 seat Roman theater.
Amman is a busy commercial and administrative center with many international hotels, restaurants, entertainment facilities as well as modern facilities for sporting events, conventions and conferences. It is a city of contrasts, a mixture of the ancient and the modern.



Al Balqa' Muhafazah


Al Karak


Al Mafraq


Amman


At Tafilah


Az Zarqa'


Irbid


Ma'an



Ajlun
A short journey west of Jerash , here is Qala'at Ar Rabad , a remarkable 12th Century A.D. castle on an awesome mountain top,. It was build in 1184 by Izzedine Usama, one of the generals of the Arab leader Salah ed Din (Saladin).


Aqaba
Aqaba is warm, sunny, it is where the fantasy, sun and sea meet ringed by mountains that change in color as the sun shines. Aqaba boasts some of the world's best scuba diving by day or night. The Royal Diving Center , for water sports their offers, snorkeling, water skiing, wind surfing, fishing and a variety of other water sports to the enthusiasts.
Of special interest among the ancient and medieval archaeological sites are the early Islamic city called Ayla, Aqaba fort (16th Century), and a very fine museum, the original home of Sheriff Hussien bin Ali, great great grandfather of King Abdullah 2.


Dode Zee
De laagste plek op aarde, zo'n 400 meter beneden de zeespiegel en ca. 55 km rijden vanaf Amman.
It is an ideal place for travelers in search of relaxation and therapy, it is also a magically serene and quiet place. A few international hotels are built on its shores offering unique Spas renowned worldwide for treatment of skin ailments.


Jerash - Stad van kolommen
Zo'n 25 minuten rijden noordelijk van Amman ligt de Grieks-Romeinse stad Jerash [ Gerasa in vroegere tijden ] en ook wel bekend a;s het Pompeii van het oosten.
Jerash wordt beschouwd als de best behouden en meest complete stad van de Decapolis, een samenwerkingsverband van de tien meest oostelijke Hellenistisch-Romeinse steden rond de 1e eeuw voor Christus. In die tijd mede bevolkt door NabateeŽrs, ArameeŽrs, Joden, Egyptenaren en bezocht door Kooplieden vanuit mesopotamiŽn en nog verder.
Bezoekers kunnen zich vandaag de dag verpozen tussen de originele tempels, theaters, plaza's, badhuizen en straten met zuilenpromenades en dat alles binnen de bestaande stadsmuren.
Nachtelijke geluids- en lichtshows in de zomermaanden en het jaarlijkse 'Jerash Kunst- en Cultuurfestival' in juli brengen het verleden tot leven voor de huidige bezoeker.


Kerak
Kerak wordt gekenmerkt door zijn prachtige kruisvaarderskasteel dat in de 12e eeuw op de restanten van eerdere citadels is gebouwd.


Madaba - stad van mozaieken
Only 30 kilometers south of Amman. Best known for its Byzantine wonderful mosaic churches, the mosaic map of Palestine, located in the Saint-George church that depicts all of Palestine, Lebanon, Jordan, Sinai and the delta of the Nile. In addition, there are other mosaic floors preserved throughout the town, as well as a local museum.


Petra
Petra was first established sometime around the 6th century BC, by the Nabataean Arabs, a nomadic tribe who settled in the area and laid the foundations of a commercial empire that extended into Syria. Despite successive attempts by the Seleucid king Antigonus, the Roman emperor Pompey and Herod the Great to bring Petra under the control of their respective empires, Petra remained largely in Nabataean hands until around 100AD, when the Romans took over. It was still inhabited during the Byzantine period, when the former Roman empire moved its focus east to Constantinople, but declined in importance thereafter. The Crusaders constructed a fort there in the 12th century, but soon withdrew, leaving Petra to the local people until the early 19th century, when it was visited by the Swiss explorer Johann Ludwig Burckhardt.


SŁd Shuneh


Um Qais
Known in antiquity as Gadara, overlooking the northern Jordan Valley, the Sea of Galilee (Lake Tiberias), the Yarmouk River and the Golan Heights.


Wadi Mousa


Wadi Araba
In de kleurige, in kalksteen en zandsteen uitgesleten kloven van de Wadi Araba vindt u Petra, de koningsstad van de Nabataeers. Zonsondergangen boven Petra zijn bijzonder fascinerend [ zie ook Wadi Rum ].


Wadi Rum - Maan Vallei
Trek or climb a mauve hued valley of mesmerizing beauty, try hot air ballooning over the hills and canyons, trek deep into the enchanting landscape in four wheel drive vehicles, or join two or three day desert safaris on camel back, Feel the romance of the Arabian desert in the spring time ... or any time, and spend a night under the stars in a Bedouin tent, at Wadi Rum in Jordan.
Wadi Rum resembles a moon scope offering ancient valleys and towering weathered Sandstone Mountains rising out of white and pink colored sands



Boekwinkel - arabische boeken


Darat al Funun - Khalid Shoman Foundation
With its Arts, Architecture, Archaeology, Darat al Funun speaks of an enduring ancient legacy of urbanism, architecture and cultural identity that is now being enriched by a modern flowering of the visual arts.


Dode Zee-Marathon - Ultra-marathon - extreme sports


Jordan River Foundation
The Jordan River Foundation's ultimate vision is to empower society, especially women and children, and in turn improve the quality of life to secure a better future for all Jordanians.


Koning Abdullah II - koningshuis JordaniŽ


Koning Hoessein - herinneringen aan een opmerkelijke vorst
Vader van het moderne JordaniŽ.


Nieuws - Jordan Times - onafhankelijk Jordaans dagblad


Umm el-Jimal - amazingly preserved Byzantine / Early Islamic town
An extensive rural settlement constructed of black basalt in the lava lands east of Mafraq, a seventy-minute drive northeast of Amman


Universiteit van JordaniŽ


Woestijnkastelen
The ancient hunting lodges of Qasr Amra, Azraq, Hallabat, shobak, Kharanah, and Mushatta are unique historic ruins featuring castles, forts, towers, baths, farming estates, caravan inns and fortifications.

Cuisine - Jordaanse keuken / Recepten



Jordan: The Land and the Table - Cecil Hourani
Paperback 192 pages (August 1, 2003); Publisher: Prospect Books; Language: English; ISBN: 1903018269



Recipes and Remembrances from an Eastern Mediterranean Kitchen: A Culinary Journey Through Syria, Lebanon, and Jordan - door Sonia Uvezian
First-rate cookbook that provides a wide spectrum of authentic and easy-to-follow recipes that make use of healthful and readily available ingredients. Both the narrative and illustrations are fascinating, and there are also some wonderful menu suggestions.



Culinair - Arabische recepten

Geschiedenis van JordaniŽ

Onafhankelijk op 25 mei 1946 (from League of Nations mandate under British administration)

De woelige en rijke geschiedenis van JordaniŽ is duizenden jaren oud. Egyptenaren, Assyriers, Hittieten, Canaanieten, Perzen, Grieken, Romeinen, Kruisridders en Mohammedanen, allemaal schreven ze er aan mee. Ze dreven er handel, trokken met lange karavanen door de woestijn en vochten verbitterde oorlogen uit. De koningsstad Petra is daar o.a. een stille getuige van.



Jordaanse geschiedenis - Wikipedia
JordaniŽ in de Oudheid, Tot en met de Eerste Wereldoorlog, JordaniŽ na de Eerste Wereldoorlog, Mandaatgebied, Onafhankelijkheid van JordaniŽ, Koningen van JordaniŽ


Jordan: Past and Present: Petra, Jerash, Amman - E. Borgia
Hardcover 76 pages (January 2003); Publisher: Oxford University Press; Language: English; ISBN: 888162124X


'Ain Gazal Excavation Reports - opgravingen Ain Gazal
'Ain Ghazal is a Neolithic site located near Amman, Jordan. It is currently being excavated by an American -Jordanian team directed by Gary O. Rollefson Director, the 'Ain Ghazal Research Institute and Zeidan Kafafi, the University of Yarmouk at Irbid, Jordan.


Fransiscan Archeological Institute [ Franciscaans Archeologisch Instituut ]

Muziek, Kunst & Jordaanse Cultuur



Jordaanse muziek
Traditionele Jordaanse muziek kan van die van landen als SyriŽ en Saudi-ArabiŽ worden onderscheiden vanwege de sterke invloed van bedoeÔenen. Daarnaast zijn er in JordaniŽ een aantal prominente dj's en popsterren.